On-Demand Barcode Labeling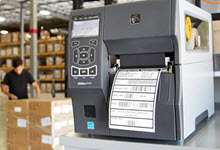 An important function of the BellHawk software platform is to automatically print barcode labels on demand from mobile computers on nearby bench-top barcode label printers or wearable "belt-mounted" barcode label printers. This enables labels to be printed as part of the data entry transactions recording the receipt, manufacture, or packing of products.
To prevent mistakes in labeling, the label format used, the barcode label printer, and the data to be printed on the label are all setup by user-defined rules. Each label is automatically printed as part of the transactional data entry based on these rules. This enables, for example, the format of each label to differ depending on the needs of the end customer, or the type of product, or its size and packaging.
These labeling rules can be setup using Excel spreadsheets, which are then imported into BellHawk and stored in its knowledge base. This enables clients to add new rules themselves, without custom software development, as they acquire new customers or develop new products.
The BellHawk "TAG" labeling module works in conjunction with BarTender Automation to enable BellHawk to support automatically producing labels using a wide variety of media on a wide variety of label printers, including color label printers. This also enables clients to design their own label formats and to specify which data from the BellHawk database is to be automatically incorporated into each label.
The BellHawk on-demand labeling software is especially suitable for use by short run and make-to-order manufacturers as well as engineer-to-order organizations. This is because these organizations can be required to use labels in a wide variety of different formats often from part to part. BellHawk can automatically print the correct barcode for each situation without production workers or material handlers having to decide what label to use or manually entering data into the label.
Automatic rules based barcode label selection can extend to the automatic selection of the correct color for the label. For example a yellow border can be printed if a part or container of parts needs inspection. Then this same label can be reprinted with a green border if the part or container has passed inspection and a red border if the part has failed inspection.
Please click here to learn more about the BellHawk Label Printing Capabilities.