Three Ways that BellHawk Tracks Work-in-Process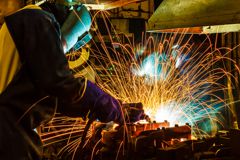 There are three ways to track work-in-process using the BellHawk software:
Use the BellHawk WIPS (Work-in-Process System) to track when work starts and stops on a work order operation. From this we can determine the amount of labor required.
Use the BellHawk BITS (Barcode Inventory Tracking System) to track items or containers of material with license-plate tracking barcodes as they move from operation to operation.
Use the BellHawk JMTS (Job and Materials Tracking System) to track the consumption, transformation, and production of materials on work-order operations. From this we can build a materials traceability history.
These can be used in combination. For example we can use JMTS (which includes the WIPS and BITS capability) to track the cost of the labor and materials consumed on each operation of a work order.
Comparison of Methods
If all that is required is to track where serial numbered items are in their assembly, repair, or test process, then BITS provides a very simple way of getting real-time visibility into the status of each customer order.
If the primary goals are to be able to see the status of batches of material or individual items and to capture the labor required in the manufacture, repair, or testing then WIPS should be used.
If the primary goal is to capture a materials traceability history so that this can be used to track back from defective finished products to the raw materials used and to track forward from defective ingredients to the products in which these ingredients were used, then JMTS is the product to use.
If the primary goal is to accurately capture labor and materials cost data then JMTS should be used. This can be augmented by capturing the setup, run, and down times of the equipment or machines used.
The above methods are presented in order of the amount of barcode scanning required, with BITS requiring the least and JMTS with the equipment tracking option (ETO) requiring the most barcode scanning and data entry.
It is recommended that clients start with the simplest method that meets their initial objectives. Then clients can always upgrade their BellHawk software to include the additional capabilities they may need in future.
Please click here to download the PDF document Three Ways to Track Work-in-Process using BellHawk.
Copyright © 2000 - 2018 BellHawk Systems Corporation