BellHawk Reports and Excel Exports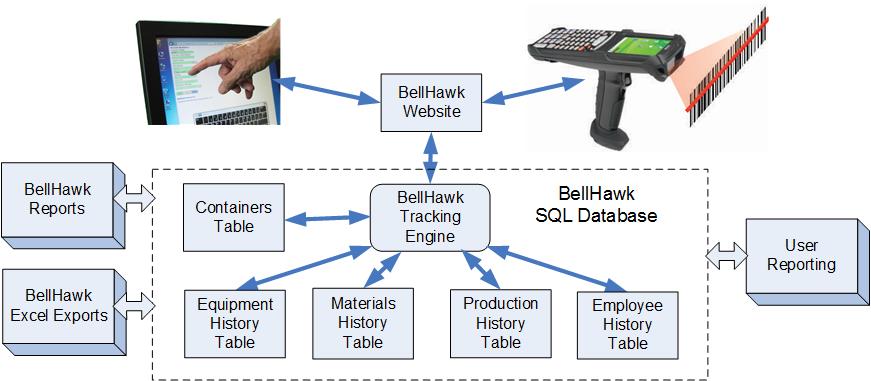 A base BellHawk system provides the following reports
Items by Location and Items in Stock
Materials Summary
Expired Materials
Materials Transaction Log
Shipping and Receiving History
Job Transaction History
Materials consumed and produced by Jobs
Labor consumed on Job Steps
Work-in-Process Inventory
These same reports are available as Excel exports. In addition Job Status, WIP Inventory Status, and Elapsed Time for Completing Jobs are available as Excel exports.
Other modules add specialized reports and exports related to their function.
BellHawk tracks the real-time status of each container, individually barcoded item and assembly in great detail in its containers status table. It also builds time-tagged materials, production, and employee history tables to record in great detail all the data collection actions of BellHawk.
As BellHawk uses a standard SQL database, these tables are accessible for users to produce custom reports or exports using a wide variety of reporting tools such as Crystal Reports, SSRS, or Access . They are also accessible through the BellHawk web services (SOAP/XML) interface as well as through a VB.Net SDK that uses an ODBC connection to BellHawk.
BellHawk Systems staff can also customize the standard reports to meet specific client requirements or create custom Excel exports or reports for clients, if needed.
Please click here to learn more about BellHawk Technology.