Exchanging Data with BellHawk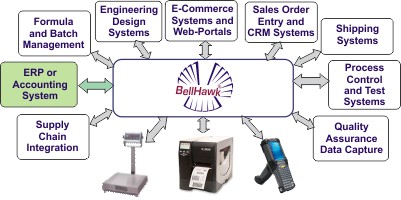 While the BellHawk operations tracking system can be run stand-alone, there is often the need to integrate BellHawk system with other systems to avoid duplicate data entry.
BellHawk comes with a well structures SQL Server database. External systems can directly read this database to extract data from BellHawk. Each record in the operational data tables is time and date tagged to make extracting just the latest updates easy. Also there are many views available in the BellHawk database to make data extraction easier.
But when pushing data back into BellHawk, it is important to use one of the interface mechanisms provided with BellHawk. This is because many tables typically have to be updated simultaneously as a result of the data update. Available interface mechanisms include:
Bell-Connector - a rules based software tool for implementing automated data exchange interfaces with a wide variety of ERP and accounting systems
A SOAP/XML web-services interface - for systems that need to communicate with BellHawk over the Internet
A .Net SDK DLL add-in to Visual Studio that uses an ODBC connection to the BellHawk database
Directly calling Stored Procedures in the BellHawk database
BellHawk can also import and export data in the form of Excel spreadsheets or comma delimited files.
It also comes with code to facilitate the integration of weighing scales into BellHawk.
Please click here for more information on the Bell-Connector Automated Data Exchange toolset/software platform
BellHawk Systems provides technical support for its clients IT staff, and their consultants and systems integrators in developing data exchange mechanisms which use these interfaces. This is done on an hourly rates basis, as part of pre-paid Support Services Bundles. BellHawk Systems does not, however, contract to develop interfaces to specific ERP (or other) systems for its clients as this would require BellHawk Systems to have people on it's staff who have an in-depth knowledge of each of the hundreds of ERP systems that are in common use in the USA.
BellHawk does support a standard interface to QuickBooks Enterprise, based on the use of Bell-Connector. This is provided at no additional cost with BellHawk but BellHawk Systems charges its clients on an hourly rates basis for all support and any modifications needed to this interface.
Data exchange with BellHawk is defined and documented in the form of High Level Data Objects (HLDOs) such as for Items, Sales Orders, and Shipments. Bell-Connector, the SDK and the web-services interface work directly in terms of these HLDOs, which are also used by the BellHawk user interface. This enables any external system to send transactions to BellHawk as well as to interrogate its database without the developers needing a detailed knowledge of the structure of the BellHawk database.
Please note that, while these interface tools are available at no cost with BellHawk, clients are expected to pay for any and all support in the use of these interface tools, including customization to meet their special requirements.
Please see PDF document on "Exchanging Data with BellHawk" for details.