BellHawk Technology Architecture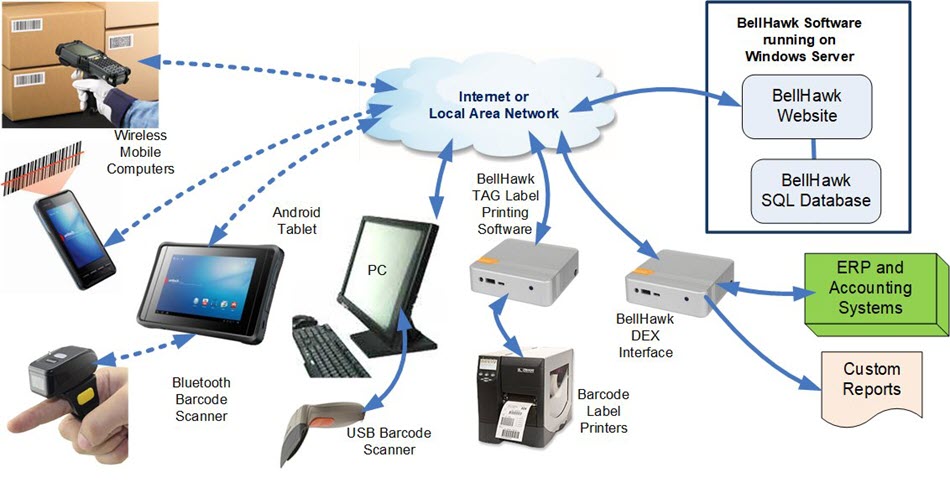 BellHawk is real-time data capture software which is used to track work-in-process materials in manufacturing plants and industrial warehouses.
A BellHawk based system consists of:
The BellHawk software, which consists of a specialized BellHawk website and SQL Server database running on a Windows Server computer. All user interactions takes place through the website interface using web-browser based devices and all tracking data is captured in the SQL server database. The BellHawk software can be installed on the client's own Windows Server or used on a subscription basis at a secure data center in the "Cloud".
Ruggedized mobile computers, tablets and PDAs, usually with integral barcode scanners, which are used to capture data by means of barcode scanning. These use a web-browser to communicate with the server over a plant wireless network, the Internet, and/or a mobile phone data network and thus do not need any special software to be loaded onto the devices.
PCs equipped with corded or cordless Bluetooth scanner which can be used to capture data by barcode scanning using a web-browser.
PCs, Laptops, Tablets and Mobile Phones that can be used to view and control operations from anywhere and at any time they have an internet connection to the Windows Server, through a web-browser interface.
PCs that are used, through a web-browser interface, to run reports, enter system setup data, and perform Excel imports and exports. PCs are also used to enter purchase orders, work orders, pick orders, and ship orders and to monitor their progress.
An optional DEX interface running on a Windows Workstation computer in each plant or warehouse This interface provides a simplified SQL"mirror" database for the BellHawk database, which can run at a remote data center. Data written into this database automatically updates the BellHawk database and data captured by BellHawk is mirrored into tables in the DEX database. This interface can be used by clients to automatically exchange data with ERP, CAD, and accounting systems as well as to produce custom reports and Excel exports.
Barcode label printers which can be used to print barcode labels on demand, through any data collection device as part of the data collection process, using the BellHawk TAG software, running on a Windows Workstation in each plant or warehouse.
BellHawk does not require the use of barcode label printers to perform its operations and materials tracking functions. Instead, for simplicity and ease of use, BellHawk can use pre-printed rolls of license-plate tracking barcodes and barcoded receiving, picking, and work order traveler forms printed on standard office printers.
While BellHawk runs on a Microsoft Windows Server, it can work with a wide range of data collection and viewing devices running a variety of operating systems, including Windows, Android, Linux, Mac OS, and iOS, using a variety of web-browsers. Through its TAG interface to BarTender Automation, BellHawk can support a wide-range of thermal, thermal transfer, and color barcode label printers.
Please click here to learn about some of the Features of the BellHawk Software Platform.