Metal Fabrication Applications of BellHawk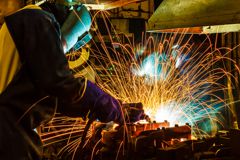 BellHawk is used by metal fabricators, who fabricate custom and semi-custom assemblies out of sheets and rolls of metal, as well as metal pipes, tubes, fittings, and other components. These clients use BellHawk because of its ability to:
Track rolls and sheets of metal in different units of measure and to convert between them.
Track rolls and sheets by length and width and thickness and to convert to and from pounds
Track different lengths of pipe, tube, rod, and bar including off-cuts for reuse
Use generic part numbers with attributes such as length, width, and color to represent a large number of different raw, intermediate, and finished materials using a small number of intermediate part numbers
Track the receipt and put away of raw materials, including customer owned materials
Track the conversion of these intermediate products into finished products in a series operations
Track work-in-process materials between operations
Tracks outsourced operations such as coating and heat-treating
Track rework and scrap, including recyclable scrap metal
Track the packaging and shipment of finished products
Generate barcode labels on-demand for incoming and finished products
Interface with weighing scales for determining quantities on rolls, reels, and skids of material
BellHawk is designed for use by those fabricators who make custom and semi-custom assemblies to order. It can import data from CAD (Computer Aided Design) systems, such as AutoCAD, and use this data to automatically generate Bills of Material and Work Orders to make a wide-variety of products for customers. BellHawk can also exchange data with a wide-variety of financial systems, ranging from QuickBooks to high-end ERP systems.
Please click on the following link for more information about the " Barcode Tracking Capabilities of BellHawk".