Industrial Distribution Applications of BellHawk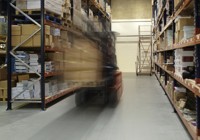 BellHawk provides low-cost industrial distribution solutions that are suitable for:
Warehouses associated with manufacturing operations
Warehouses distributing products to industrial clients
Organizations with multiple geographically distributed warehouses and store rooms
Warehouses associated with repair, refurbishment, recycling, engineering, contracting and construction organizations and projects
Food, beverage, and pharmaceutical warehousing and distribution operations
Warehousing and distribution of medical supplies and equipment
The BellHawk warehouse management and distribution software is specifically designed for industrial applications as well as for the warehousing and distribution of products regulated or controlled by Government agencies such as the FDA, USDA, DoD, FAA, and FEMA.
BellHawk is not intended for high-volume direct-to-consumer warehouses, such as those operated by organizations such as Amazon. It is, however, used for shipping products to the distribution centers used by big-box retailers, restaurant and supermarket chains.
The BellHawk software is ideal for use in industrial distribution centers where:
Lot and Serial Number tracking of materials is required

Operations such as assembly, kitting, repacking and labeling need to be tracked

Materials need to be shipped out of multiple distribution centers

Materials need to be distributed for third parties

Mistakes in picking, packing and shipping need to be prevented
Unlike systems designed for retail distribution applications, BellHawk is designed specifically for industrial distribution applications. It is used by manufacturers, industrial distributors, food processors and distributors, pharmaceutical and medical supplies manufacturers and distributors, as well as defense and construction organizations.
BellHawk has the capability of tracking the lot numbers of every box and pallet that the distribution center handles, from the moment it is received to when it is picked, packed and shipped to the end customer. This includes tracking the transformation of this material in kitting, assembly, repacking and labeling operations.
BellHawk includes the capability for monitoring the loading of trailers to ensure that the correct materials get loaded on each trailer. BellHawk can generate packing lists, bills of lading and electronic manifests at the completion of loading. BellHawk can be integrated with shipping systems, such as those for UPS and FedEx, as well as with supply chain management systems. BellHawk can also generate advanced shipment notice data for delivery by EDI software.
BellHawk can support the integration of multiple distribution centers over the Internet. This enables customer orders to be sent to BellHawk and then pick orders printed out at the distribution centers that have the materials in stock. BellHawk enables the status of inventory and customer orders to be monitored at all the distribution centers from anywhere on the network and provides a single point of integration with the client's ERP system.
Please click on the following link to learn more about BellHawk's Warehouse Management System Capabilities.
For more information about how BellHawk Systems can help you with your specific manufacturing operations issues, please contact BellHawk Systems by clicking on the link below: